Whether you're looking for a place to hang out with your friends or a meeting space, a café is definitely one of the places to visit. As Komárno is a modern city, there are a few quality cafes that people know outside the city. You can enjoy your morning presso or cappuccino either on the terrace overlooking the square or in one of the cafes where the aroma of freshly roasted coffee is carried.
Green Coffee
This café will appeal to many visitors not only for its pleasant non-smoking environment, but also for small things that create a pleasant atmosphere. When sipping a tasty coffee that can be enjoyed in several ways, cakes and cakes of different kinds, or fresh fruit or vegetable juices, will also please the taste buds. In summer you can also enjoy a coffee or mixed drink on the terrace in the Šeko Center building.
Cafe Laro Restobar & Vintage Gallery
At first glance, the visitor feels that the place itself is breathing, more precisely breathing vintage style. The café is complemented by vintage elements that make ordinary coffee sitting an extraordinary pleasure for the eyes and peace of mind. In addition to coffee, you can also enjoy homemade desserts. In winter, fresh teas will warm you up and in summer you can sit on the terrace where you will feel that you are sitting in your own garden and not next to the building of Matica slovenská.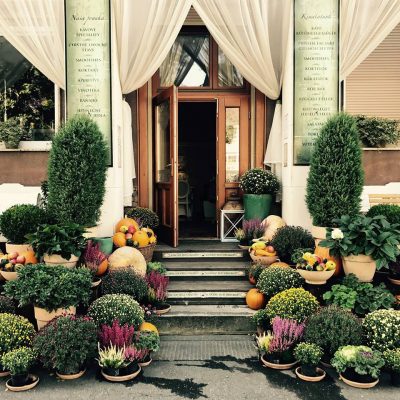 De Luxxe Cafe
You can crown the afternoon walk around the square in Komárno not only with good coffee, but especially in a good café. Liquid gold lovers will find their place not only in the form of a large selection of preparation methods, but also in the fact that they can enjoy Green Plantation coffee from a local roaster. This uniqueness will be appreciated especially by coffeemen, who will thus be sure that not only freshly ground coffee but also freshly roasted coffee will appear in their glass.
Café Monarchia
If you are looking for a place with a cultural experience in addition to your favorite coffee, then you are at the right place. Although the café may act like any other, it is transformed into a gallery, a lecture hall, a concert room or an entertainment corner, on a daily basis. Here you can enjoy various games, discussions or concerts. The café also organizes various workshops according to their interest, such as those interested in arttex. So you can sit not only on a pleasant coffee, but also in an environment with a varied program in the European courtyard.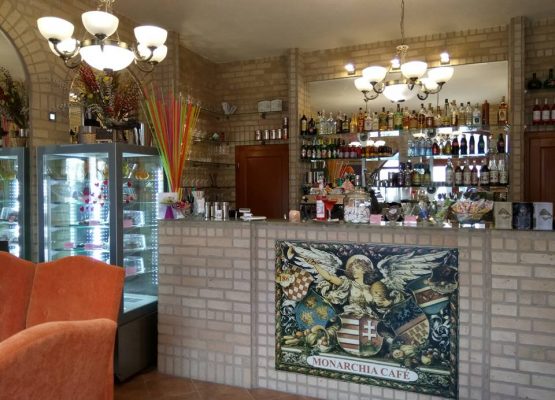 Praliné Cakeshop & Cafe
Anyone who likes to enjoy a delicious cup of coffee and a tasty piece of cake is at the right place. Every day, the place is freshly stocked with plenty of tasty cakes and desserts, which can be enjoyed in the cozy interior of the café or on the spacious terrace. Of course, there is also a large selection of fresh lemonade in the summer and a variety of ice cream flavors are exclusive. The café welcomes its visitors every day at the permanent address Gútsky rad 5.
Kávy sveta
This café is a family business that, in addition to operating cafes, is also roasting coffee. At this place they offer up to 50 ways to prepare coffee, as well as 50 tea specialties and tasty wines from Central Europe. You can also enjoy a local dessert with the afternoon coffee. For example, Argentine hot chocolate is also available for the youngest. You can visit the newly opened café with a coffee shop at Námestie Generála Klapku 5.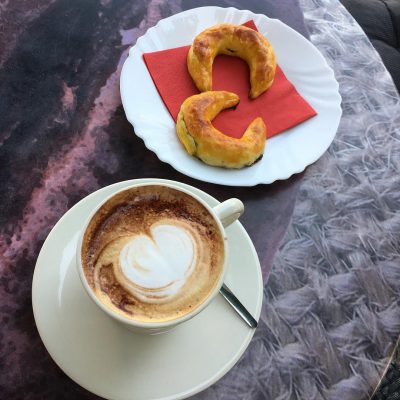 Laser Arena
Do you want to entertain your child but did not had a morning coffee yet? At the Laser Arena you can have both of those morning activities. In addition to tasty Italian coffee, the place also offers a place where your child can have fun, whether on consoles or a laser game with their friends. The new business is located at the Shopping center building.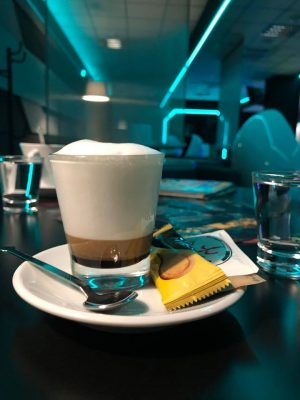 We hope that our list inspired you and you will choose from one of the cafes mentioned above.